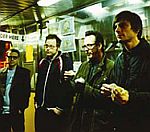 Weezer
's as-yet-untitled upcoming studio has been given a release date it has been announced by the band.
Set for 27th October album 7 is set pick up where the band's latest eponymous 2008 release (known as the 'Red' album) left off.
The Americans have been recording for the last year with U2 and REM producer Jacknife Lee.
A deluxe edition re-release of their album 'Pinkerton' which originally came out in 1996, is also reportedly in the pipeline.
(by Andrew Almond)