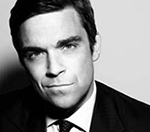 Robbie Williams
is set to return after a three year absence this autumn with the release of a brand new single and album.
New single 'Bodies' will be released on October 12 through Virgin Records with a digital release the previous day. It will be followed by his eighth studio album 'Video Killed The Reality Star' on November 9th.
Trevor Horn, who has worked with the like of Belle & Sebastian, Pet Shop Boys and Paul McCartney, manned production duties for both single and album.
The singer, originally from Stoke-on-Trent, has sold 55 million records across the world but has been quiet since his last album, 'Rudebox' was released to mixed reviews back in 2006.
(by Andrew Almond)