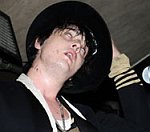 Pete Doherty
is to go on trial after he pleaded guilty to two offences of drugs possession and driving without a licence or insurance.
Doherty, 30, was released on £50,000 bail during an appearance at Stroud Magistrates' Court this morning.
It follows his arrest on suspicion of dangerous driving in the early hours of Thursday morning.
Police found £35 worth of heroin in a car being driving by Doherty after a gig in Gloucester.
Fifteen wraps of the drug, with a street value of Ј300, were also found at the singer's home in Marlborough, Wiltshire.
Doherty denied a charge of dangerous driving and entered no plea to the drink-driving allegation.
The singer must adhere to a number of conditions as part of his bail, according to the Press Association.
The Babyshambles star was told he will have to obey a 7pm – 7am curfew order at his home in Wiltshire. These won't apply when the singer is performing, however.
He was also forbidden from travelling in the front seat of any vehicle and must attend a weekly Narcotics Anonymous meeting.
Doherty is due to go on trial at Gloucester Crown Court August 11.
(by Jason Gregory)