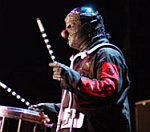 Slipknot
percussionist Shawn 'Clown' Crahan has moaned that he hates touring and all the 'bullshit' that surrounds it.
The 39-year-old made the revelation in an interview with Metal Hammer Magazine, and explained that although he loathes hitting the road it doesn't affect his performances.
Clown said: "It's simple: I hate touring. I hate everything to do with it! I hate this fucking room that looks like it hasn't been cleaned in twenty years, I hate the catering, I hate all the jackasses hanging around and all the kiss-ass, suck-dick, bullshit that goes with getting to do one thing, which is the only reason I do it…to play live!
"I play live because I have pain that is unidentifiable to anybody else but myself and the release comes through live performances."
(by Scott Colothan)