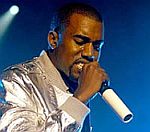 Kanye West
has unveiled the video for 'Spaceship', four years after he made it.
In a message on his blog, West said the video had never been released because he wasn't satisfied with the finished product.
"I directed this video four years ago but I wasn't satisfied with it so I never released it," he wrote. "But now looking back at it I like it."
'Spaceship', which features GLC and Consequence, appeared on West's debut album, 2004's 'The College Dropout'.
(by Jason Gregory)