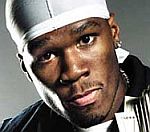 50 Cent
says his upcoming fourth studio album '
Before I Self Destruct
' could be his last.
The 33-year-old rapper only has this album and a compilation release left on his record contract, and says, if it makes sense, he may not release another.
Speaking to King Magazine, he said: "It could very well be my last studio album if it doesn't make sense for me to continue and actually do it."
The rapper also added that he doesn't expect Jay-Z to be king of the hip-hop tree for much longer: "He's married, he's getting ready to be 40. He's in a different place, he might not even want to run around, and even touring might be out of the question."
'Before I Self Destruct' is released on March 24.
(by Scott Colothan)