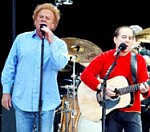 Simon and Garfunkel
have confirmed plans to tour together for the first time in five years.
The famous duo were spurred on to organise a tour after Art Garfunkel made a surprise appearance at a Paul Simon concert at the Beacon Center in New York on Friday night.
The pair performed three songs together – 'The Boxer', 'The Sounds Of Silence' and 'Old Friends' – and naturally received an ecstatic response from the crowd.
Explaining the reason behind the touring plans, Garfunkel told the BBC: "(The show) had a real reaction - it was extraordinary.
"It was extraordinary so I squeezed that in and did a lot of running around in the last week. Just a hell of a knock-out of a reaction.
"I said to the audience, 'you don't have a right to expect - and we didn't expect - that the interest in us would last and you would still care right to today and I'm touched'."
He added: "Our plan to work together is coming together but it doesn't go through England this time."
(by Scott Colothan)