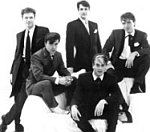 Eighties pop stars
Spandau Ballet
are reportedly set to reform with a comeback album and multi-million pound world tour.
The huge reunion is reportedly the brainchild of manager Steve Dagger, with full details being announced at a press conference aboard HMS Belfast on the River Thames.
The Second World War vessel served as the venue were the five-piece pop act launched their career three decades ago.
According to the Daily Express, Dagger said last week: "It's true. We're not making announcements yet, but yes, basically, the boys are back in town. Not just a nostalgic re-run of the old, but a fresh slant on what Spandau Ballet are about."
It's a far cry from 10 years ago when three members of the band - Tony Hadley, saxophonist Steve Norman and drummer John Keeble – took Gary Camp to court claiming the songwriter owed them royalties.
After losing the $1million lawsuit, the two fractions in the group vowed never to speak to each other again.
(by Scott Colothan)