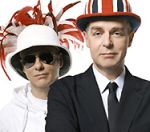 Pet Shop Boy
Neil Tennant has took a swipe at Simon Cowell saying the spectrum of music on his reality shows like The X Factor and American Idol is too narrow.
The 54-year-old was speaking ahead of his outstanding achievement honour at Brit Awards on February 18 and took the opportunity to take a swipe at Cowell's tastes.
He complained: "(Cowell's shows are) basically people singing Whitney, Mariah and maybe Elton. Why don't they have, say, a new-wave week? Or 80s electro week?
"If it's not power ballads then it was a narrower version of disco. I remember on Pop Idol, Pete Waterman told someone, very sympathetically, 'The thing is, you're more of a Depeche Mode kind of artist.' In other words, 'What are you doing here, pet?'
Tennant admitted that he only tuned in to X Factor because Cheryl Cole is a judge and he has previously written a track for Girls Aloud.
Elsewhere in the interview, Tennant rubbished tabloid reports that the Pet Shop Boys will perform with The Killers, saying the story was "made up by the papers".
He did however, confirm there will be "two guests" for their performance.
(by Scott Colothan)