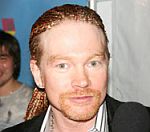 Guns N' Roses
frontman Axl Rose has ruled out ever reuniting with the band's former guitarist
Slash
.
Rose said it was more likely that "one of the two of us would die" before they took to the stage together again.
Slash left Guns N' Roses in the mid-90s because of what's widely believed to have been creative differences with Rose.
In his first interview in nearly nine years, Rose, who is the group's only remaining original member, did suggest that he was open to performing again with guitarist Izzy Stradlin and bassist Duff McKagan.
"In regards to Slash, I read a desperate fan's message about, what if one of us were to die and looking back I had the possibility of a reunion now, blah blah blah," he told Billboard.
"And my thoughts are, 'Yeah, and while you're at the show your baby accidentally kicks a candle and burns your house down, killing himself and the rest of your family'.
"Give me a fucking break. What's clear is that one of the two of us will die before a reunion and however sad, ugly or unfortunate anyone views it, it is how it is.
"Those decisions were made a long time ago and reiterated year after year by one man."
Turning his attention to Stradlin, Rose said he could "see doing a song or so on the side" with the guitarist, "or having him out [on tour] again".
He added: "Maybe something with Duff [McKagan], but that's it, and not something I'd have to really get down into, as I'd get left with sorting it out and then blamed on top of it. So, no, not me."
Rose said he had "no plans" to tour the band's latest album 'Chinese Democracy', but admitted there had been "talk" of live shows.
(by Jason Gregory)