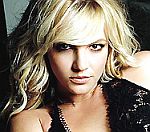 Britney Spears
and her parents are being sued by the singer's former manager, Osama Lutfi, for breach of contract.
Lutfi, who began looking after the singer's affairs in 2007, is also seeking unspecified damages for intentional infliction of emotional distress and defamation.
In a lawsuit filed at Los Angeles Superior Court, Lufti claims a "campaign of lies and intimation" forced him out of Spears' life.
He also accused the singer's father, Jamie, of punching him in the chest in January 2008 and her mother, Lynne, of damaging his reputation in her book Through the Storm.
In the memoirs, Lynne Spears claimed Lufti had over-medicated her daughter during his time as Spears' self-styled manager.
Lufti was responsible for Spears during her high-profile public meltdown in 2007.
Last week, Spears' father was granted a restraining order against Lufti and his daughter's former boyfriend, photographer Adnan Ghalib.
Lawyers for Jamie Spears argued that Lufti had broken an agreement to keep his distance from the singer and her family.
According to the Reuters news agency, Lufti is seeking unspecified damages in his lawsuit.
(by Jason Gregory)