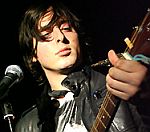 Former
Libertines
and
Dirty Pretty Things
star
Carl Barat
is to release his debut solo album next year.
In an interview with Reuters, Barat said his plans for 2010 meant it was unlikely that he and Pete Doherty would reform the Libertines in the near future.
"It's not too late, it's just not the right time," the singer and guitarist said.
"I am not ruling it out completely but next year I am doing my album and maybe acting in two plays in London in January."
Barat, who disbanded Dirty Pretty Things in 2008, said he found the prospect of releasing his debut solo effort "absolutely terrifying".
"It's very hard but at the same time it's very rewarding," he said.
"Everyone has to do what they think is right. Even if it's shit, people respect you for being brave enough."
He added: "It's the first time I'm being on my own and doing without guitars fighting each other. It's a bit more about the voice. A bit more naked."
(by Jason Gregory)