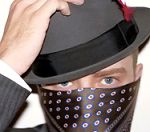 Justin Timberlake
is set to make a guest appearance on
The Game
's forthcoming new album.
The former N*Sync star recorded vocals for the Pharrell Williams-produced LP, entitled 'The R.E.D. Album', in New York last week.
The Game said Timberlake's collaboration had the potential to make the record an award-winning release.
"The vibe changed. And it went to where I can see Grammy Awards," the rapper told Rap-Up.
"I had a really dope energy from him being in the booth last night."
He added: "Justin, he's dope. I appreciate his music. I never thought I would work with Justin and for it to turn out to be as catastrophic as it was, was amazing."
Dr Dre and Gucci Mane are among the other stars set to feature on 'The R.E.D. Album', which is scheduled for release next February.
It will mark the follow-up to The Game's 2008 LP, 'LAX'.
(by Jason Gregory)