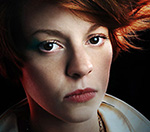 La Roux
have revealed that they plan to change direction on their next album because synth music is "over".
The duo, fronted by singer Elly Jackson, found success with their electro-inspired self-titled debut, released last year.
But Jackson said they now wanted to change direction in order to keep their music original.
"I don't want to make synth music for the rest of my f*cking life," Jackson told Spinner.
"It was a time when I was into that, but whatever, it's done with, it's gone. The whole genre is so over. It was my thing and I'm bored with it. If I see anything more '80s-themed, I'm going to bust."
Jackson added that she wanted the next record to be no more than ten tracks long and be "more human, more open, warmer" than its predecessor.
(by Jason Gregory)