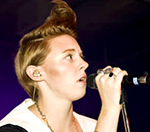 La Roux
's Ellie Jackson says claims that the duo sound like
Lady GaGa
are "really lazy".
The British group's self-titled debut album has frequently been compared to current electro acts like Lady GaGa and Little Boots because of their shared 80s influences.
However, in an interview with MTV, Jackson insisted that any similarities were a coincidence.
She said: "Obviously we knew that dance music was coming more into the pop arena, but I didn't know about acts like Lady Gaga, or Little Boots, or Ladyhawke when we were making the record, so it's not like we were aware that we were going to be part of this 'new wave'.
"But it is frustrating — it is lazy — when they go, 'Oh, it's got a synth, it's '80s' ... we're not trying to deny it, but you don't want to talk about it over and over again."
Jackson added: "We've taken a lot of influence from the '80s. But hopefully we've made something new out of that."
La Roux are currently in the US promoting their album, which went in at number two in the UK earlier this summer.
(by Jason Gregory)