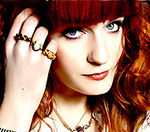 Florence & The Machine
have started work on their new album.
The follow-up to 2009's 'Lungs' is nearly finished and will hopefully be recorded in the famous Abbey Road studios in April.
"Work on the second album has begun with producer Paul Epworth and there is talk of booking out Abbey Road for a month in April or May to record. Which is nice," guitarist Rob Ackroyd told Gibson.
He added: "Florence's and my taste in music often overlap in harmonious fashion; we're both big fans of hip-hop and American indie."
"But she's also a big fan of unadulterated pop music, which cuts through me like a knife."
Meanwhile, Florence Welch has admitted that the US show Glee's cover of the band's track was 'amazing'.
(by Holly Frith)