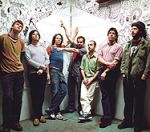 !!!
drummer Gerhardt (Jerry) Fuchs has tragically died after falling down five stories of an elevator shaft in Williamsburg, New York.
The 34-year-old fell to his death at 12.30am (EST) yesterday morning when a manual freight lift stopped slightly above the fifth floor.
Fuchs and his friend attempted to jump the few feet to the floor, but the New York Times reports that the drummer's clothing got caught as he jumped and he fell through the gap. His friend landed safely.
He was rushed to Bellevue Hospital, but died at 3.30am.
!!! had earlier performed with MSTRKRFT on the Late Show With David Letterman in the city.
As well as !!!, Fuchs had played drums for Turing Machine, Maserati and The Juna MacLean.
(by Scott Colothan)